AS Art Foundation Mission
The Anita Shapolsky Art Foundation is a 501(c)(3) tax exempt National Not for Profit Corporation. The Foundation is located at 20 West Broadway, Jim Thorpe, PA, 18229. This is also the address for the Foundation's art exhibition center. The Foundation was established in November of 1999. Our main goals are:
To establish and operate an art exhibition center for literary and educational purposes.
To provide a "home" for important art (primarily Abstract) upon an artists' demise.
To educate current and future generations on the importance, significance and various styles of abstract art.
To promote programs that offer avenues to display, educate and proliferate abstract art.
To ensure that Abstract Expressionism maintains its important place in history.
To continually analyze the art world to find new, emerging trends and seasoned artists that are significant in scope and in need of support.
---
Art Summer Program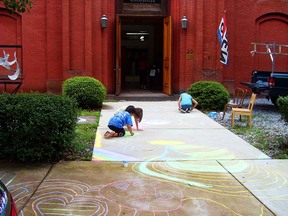 Art classes June featuring Abstract Art.
Weddings
From May – October. For inquiries email here: anitashapolsky@gmail.com