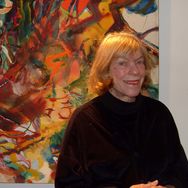 Anita Shapolsky opened her first art gallery in 1982 in a large, minimalist space in Soho. From the beginning, Anita's focus has been in building and showcasing an historically important collection of American Abstract Art from the 50's.
Latin American, women and African Americans were and are, also being exhibited at the gallery and at the Foundation.
In 1997, the Anita Shapolsky Gallery moved to a brownstone on the Upper East Side of Manhattan and established the Art Foundation in Jim Thorpe. These venues served to show this important collection of American Abstract Expressionism in varied and interesting environments and established an interplay between visual art, architecture and landscape that few other galleries can match. In so doing, this creates an unmistakably American setting and a haven for people with a serious interest in contemporary art. Much of the work featured in the collection is from the New York School of Abstract Expressionism.
In 2010 Anita was inducted in the Hunter Collage Hall of Fame. She is also a member of the National Arts Club in NYC and the American Association of University Woman. She has juried many art shows and curated exhibitions over the years. She has also lectured on Abstract Art.

For more information, please visit www.anitashapolskygallery.com.